Contributed by LordTBT at 2:26PM GMT, 19 March 2011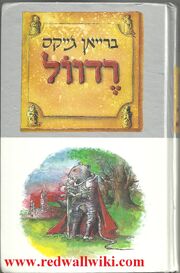 It's been a while since our last edition of Redwall Collectors Community, which means it's time for the first one of the year!
Today we'll be exploring something I happened to accidentally stumble across, the Hebrew edition of Redwall, from Israel.
Previously, I actually never thought I'd find one of these, mainly because I don't speak or know any Hebrew, but also because I don't have a Hebrew keyboard to type the letters!
With that said, I'm told the literal translation of the author and title on the book turns out to be "Brian Jacks", "Redvol". If anyone would like to offer another translation, and/or could actually type out this bit, please chime in.
The Hebrew edition of Redwall was printed in 2003 by the Hakibbutz Hameuchad Publishing House in Tel Aviv, Israel. The text was translated by Rachel Aharoni, edited by Yona Tepper, and the illustrator is Danny Kerman.
The illustrations, simply put, are not that exciting. There are no images in between the 'books', and almost all of the chapter icons are the same. The icons generally tend to be one of two mice, either facing forward or backward, and as you can tell below, they look like basic sketches. One of the illustrations really stuck out to me though, because I have no idea who that Asian-looking mouse is supposed to be.
The back cover of the book (with a great drawing of Redwall Abbey) has a summary - I'd be interested in knowing how accurate this is, so again - we welcome Hebrew translators to comment!
Does your country have an edition of Redwall ? Please let us know! In order to officially verify languages, we will need scans and/or photos. You can upload them here, or contact me with them. I'm extremely curious to know if there is an Arabic Redwall myself.
Feature Update 3/27/2011
Many people have been wondering how they can acquire their own version of this edition of Redwall. I've found the book, רדוול by ברייאן ז'אק, listed on the publisher website for 48.30 ILS, or ~ $13.59 before shipping, which coming from that region of the world could be pricey. Worth noting is that the entire website is in Hebrew without an English option, so you'll have to navigate your way through that if you want to purchase it. Good luck!
Want to keep up-to-date on all the latest Redwall and Brian Jacques news, reviews, and special features? Get social with us!