Contributed by LordTBT at 5:22AM GMT, 29 July 2016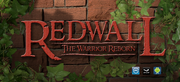 On July 28, Soma Games hosted another Twitch event, where Chris Skaggs and art team member Erin Kays focused on the development of rats for Redwall: The Warrior Reborn. Chris shouted out the Redwall Wiki and noted an inquiry I had made about villains, as a lot of what we've seen so far has generally revolved around the good guys. Thanks, Chris!
The 45-minute session was a conversation between Skaggs and Kays as to what inspired the design of rats for the game (The Secret of NIMH, Ratatouille, and others), and conceptual sketches were revealed, as well as 3-D modeling simulations.
Questions from viewers were interspersed throughout the stream, and it concluded with some potential sartorial offerings for rat characters, which will likely have a variety of shapes and looks.

Among some of the inquiries:
-There will be bird appearances.
-There will be no playable villain characters as of present.

You can stream the entire session here.
Want to keep up-to-date on all the latest Redwall and Brian Jacques news, reviews, and special features? Get social with us!
Related Stories
Community content is available under
CC-BY-SA
unless otherwise noted.