Contributed by LordTBT at 11:15PM GMT, 10 December 2017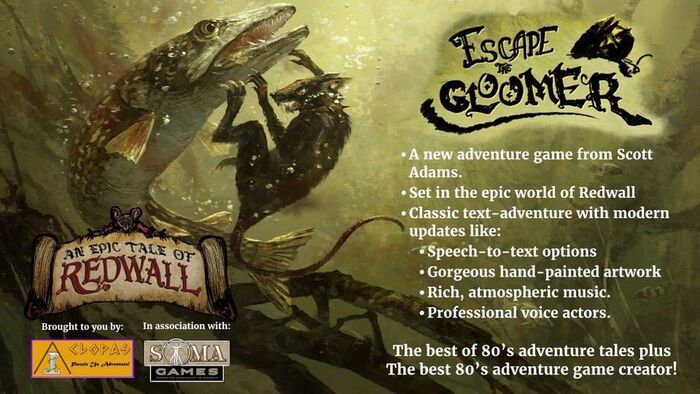 On November 19, 2017, video game designer Scott Adams formally announced "Escape the Gloomer" at Free Play Florida, a "three day celebration of the history, artistry, competition, and creation of electronic gaming of all kinds driven by the enthusiastic gamers of the south east."
Towards the end of a 69-minute presentation, Adams revealed the promotional slide for the game, and offered a few comments about it. It will be a collaboration between Soma Games and Clopas LLC.
The slide describes "Escape the Gloomer" as a "classic text-adventure with modern updates like speech-to-text options, gorgeous hand-painted artwork, [and] rich atmospheric music." Additionally, it indicates the game will involve "professional voice actors", which sounds fairly exciting.
"The prologue has already been written and is doing beta testing," Adams said. He has "a lot of ideas for chapter one" - which indicates this will be a multi-part narrative.
It will be priority one for him right now, and "will not be released unless it's ready."
Adams noted that "it's gonna be a fun game," and that in terms of game development, he's "not killing off players anymore" - so we shouldn't expect the player to die with a 'game over' screen.
Expected release is fall/fourth quarter 2018.
Watch Adams' announcement below, which begins at 58:48, or click here to be taken directly to that minute marker.
Want to keep up-to-date on all the latest Redwall and Brian Jacques news, reviews, and special features? Get social with us!
Related Stories