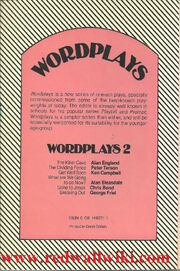 Wordplays 1 was the first in a series of one-act play collections commissioned and edited by Alan Durband, and published by Hutchinson in the UK.
The intended audience for the plays is younger, around age 11.
The plays include:
We Shall Never Die by Dave Sheasby
The Tree Machine by Mandy Alexander
The Awful Billy Smiff by Brian Jacques
Darren's Conker by Anne Pickles
Politics and Terror by Willy Russell
All Friends Together by Tim Shields
The Awful Billy Smiff
The Awful Billy Smiff takes place in a school, where Billy Smiff, an unruly and rude ten-year-old student, torments the new teacher, Miss Crampton.
The play takes place in two settings; the first of which is a teacher's lounge where the character of Miss Crampton learns that she is the recipient of the class which includes Billy Smiff.
The second setting is the classroom itself, where Miss Crampton vows to not tolerate Billy's antics. During the teaching session, Billy continually makes outbursts and smart aleck comments, and Miss Crampton attempts to discipline him and continue teaching the interested students a lesson on morals.
Eventually, however, Miss Crampton is forced to allow Billy to participate in the lesson, which culminates in her learning a lesson of her own at the end of it all.
The character of Miss Crampton shares her name with Brian Jacques' business partner.
Characters
Billy Smiff
Liz Crampton
Mrs. Carmody
Mr. Howard
Mr. Cunningham
Rachel
Jennifer Greenwood
Susan
Miriam
George
Peter
Ian Jones
Feature
This item was featured in the Redwall Collectors Community series.